0 Comment
3 min read, 20 Feb 2019
Mental Wellbeing
3 min read
10 Instant Mood-Boosters When You're Feeling Low In Life
Every now and then, you may find yourself feeling low, and no matter what, that feeling of anxiety and darkness doesn't seem to loosen its grip over you.
It is absolutely okay to feel low once in a while, considering how fast paced today's life has become. In our race to try and succeed at everything, we end up feeling low,
depressed
, and lifeless.
Here are some simple and effective everyday tips that you can follow to feel better when you get into that zone of feeling low and lonely:
Get in touch with your spiritual side

– Faith and prayer, regardless of what religion you follow, or even if you're an atheist, can have a very positive impact on your mental wellbeing. In case you don't believe in any religion or even in any other kind of power, pray to the power within you. You can try

meditation

or a restorative

yoga

class, for a start.

Yoga and meditation

have been known to improve mood and enhance mental stability. So as a part of your day, set aside 10-15 minutes for prayer, meditation, or yoga. It'll definitely lift your spirits.
https://media.giphy.com/media/GtQioJfYojxQY/giphy.gif
2. Get some exercise – It is no secret that physical activity and exercise helps in the release of happy hormones called endorphins. Endorphins are excellent when it coming to improving your mood. You can start off with a brisk walk and then progress to a regular exercise program. It will give you a sense of accomplishment and will keep you focused.
3. Write it down – Before going to bed every night, make it a habit that you write down 2-3 things that, according to you, went down well, no matter how minor they may be. As you write, try and be as descriptive as possible, and write about the role you played in making each moment happen. This will help you become increasingly mindful about how you can be in charge of your happiness, and will encourage you to make choices that end up making you feel good.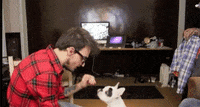 4. Play with your pets – There are numerous studies that suggest that spending time with pets is therapeutic, and helps in fighting depression, anxiety, and other mood disorders. Spending quality time with your pet can instantly make you feel better and can uplift your spirits. You can take walks with your pets, or just cuddle them to get those happy hormones running through your body.
5. Introspect – When you feel low, it is important that you step back and reflect on your feelings. Try and find out what triggered this feeling of being low, and introspect on how unimportant it will be to you weeks or even days from now. By looking at the bigger picture, you will realise that your feelings, though strong, are only temporary, and will fade away with time. If, however, you find that the trigger is important to you and the effect will last a long time, we suggest talking to a qualified therapist.
6. Talk about it – Reach out to the ones you trust. There is always a friend who listens without judging, and wishes the best for us. Talk about what is bothering you and what you have been holding on to. Seek his/her opinion and be open to taking feedback. If it is not possible to talk to a friend, look for a trusted family member who you can be open with. If even that is not an option, look for a therapist.
7. Listen to music – Music has the amazing quality of healing and enhancing the mood. Listening to uplifting music can make you feel less alone, or take you on a happy mental journey. 
8. Learn to prioritise – Sometimes, when you fail to prioritise, you can end up feeling low. It could be piled up projects at work, or chores at home that need attention. Make a list of things that need to be done, set realistic timelines, and start working on the pending things one by one. You will notice that as soon as you start getting things done, you will feel more relaxed and less worried. It will also give you a sense that you are in control of your life and will help you organise your timings better.
9. Take a trip down memory lane – Sometimes, revisiting old memories can help in uplifting spirits. Take a look at your childhood pictures, or pictures from your birthdays, travels, or other rewarding occasions that will make you realise that this phase is temporary and will pass.
10. Cultivate gratitude – Practice genuine gratitude in your day-to-day life. It can act as a major source of healing and can improve your wellbeing. Step back and notice everything you have to be grateful for. It will make you feel whole.
Feeling low and being depressed are very different things. If you find yourself feeling low constantly, please consult someone qualified to deal with it. Depression is a serious issue that needs attention immediately.